PASTOR CLYDE HAMMOND, JR.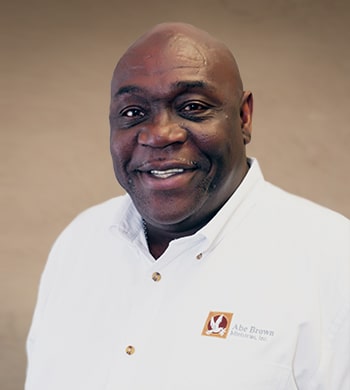 TLP Coordinator, Abe Brown Ministries & Sr. Case Manager, Reentry+
As the Transitional Living Program (TLP) Coordinator for Abe Brown Ministries, Pastor Clyde Hammond, Jr. assists formerly incarcerated persons with establishing a firm foundation through spiritual and personal growth, life skills training, and gainful employment. In this role, he is responsible for the daily activities of the TLP residents, program facilitators, and TLP properties. Pastor Hammond is also one of the Case Managers in the Reentry+ Program, ensuring clients receive the full scope of services provided through the Ministry. He also travels into the prisons as a facilitator to conduct seminars for those being released, thus preparing them for re-entry.
Pastor Hammond served at Lighthouse Ministries International from 1998 through 2014. During his tenure, he established Overcomers (and other group dynamics), an effective, weekly group interaction attended by the men and women of the Faith Home to develop decision-making skills. He maintained and developed curriculum, was a liaison between employers and graduates, instructed classes and was responsible for daily management and operation.
Pastor Hammond was raised in Tampa and educated at Brandon High School. He completed his Bachelor's degree in June 2005 from the Faith Theological Seminary & Christian College in Tampa, graduating with honors.
His passions are ministering in the jails, prisons, and any place where he can productively bring about life change.
"I can honestly say [this is] the best group of people I have ever worked with.
God bless you all."
– Pastor Clyde Hammond, Jr.