SHELSIE JEANTY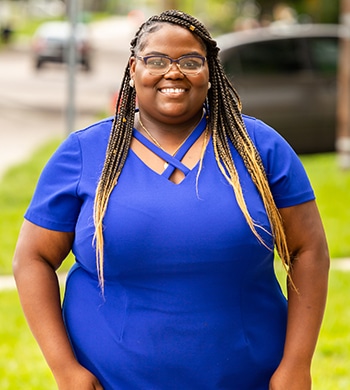 Shelsie is an ambitious and devoted Business Development Manager, utilizing her years of experience in academic and career advising to bridge the gap between Reentry+ clients and business partners. As Business Development Manager, Shelsie cultivates relationships with employers in the Tampa Bay community and manages job leads from partnering employers to ensure appropriate matches are made. Shelsie works closely with the Career Coach to support clients with job placements and employment services.
Shelsie first joined the team in 2018 as an intern during her final semester at the University of South Florida (USF) where she received a Bachelor's in Social Work with a minor in Women and Gender Studies. After graduating from USF, Shelsie became the Reentry+ Program Assistant and later the Reentry+ Career Coach. Shelsie is currently pursuing her Master's Degree in Criminal Justice with a concentration in Juvenile Justice Leadership through the University of Central Florida.
As a member of the Beta Kappa Sigma Tampa Alumnae Chapter of Sigma Gamma Rho Sorority, Inc., Shelsie works to enhance the quality of life for women and their families within her community.